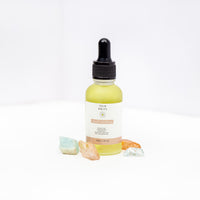 30 ml / 1 OZ
Created to have a lightweight feel while hydrating the skin without compromising the pores. This oil blend can be used on it's own after cleansing or with a full routine. Feel free to use from head to toe, yes this includes from the scalp down onto the rest of the face and body! Our "Level" Oil Blend is perfect for those who would like to target dullness, surface hydration, inflammation and uneven skin tone. It is amazing for most skin types: dry, combination, oily, sensitive with the exceptionof hypersensitive skin types and other underlying skin conditions.

Use:
Cleanse and dry skin

Apply 2-3 drops onto skin using gentle fingers in an upward motion

Gently press until absorption
Ingredients: Hand-blended with: Argania Spinosa Oil, Persea Americana Oil, Vitis Vinifera Oil, Borago Officinalis Oil and Charged Rose Quartz (for healing energy).
THIS PRODUCT MAY CONTAIN NUTS (patch test a small area on skin)